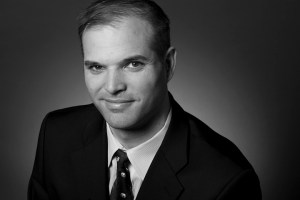 At the climax of this summer's silly Wall Street sequel, Oliver Stone's camera lingers on our young hero's bombshell banking exposé. "The first thing you need to know," it says, "is that it's everywhere." As if it weren't already clear that Matt Taibbi's Rolling Stone Goldman Sachs profile has been the splashiest piece of financial journalism since the financial crisis began, Mr. Stone lifted its opening line verbatim.
"I'm not really classifiable, I don't think," Mr. Taibbi said in a downtown diner near Sixth Avenue recently, sipping coffee. His second sentence of the July 2009 article called Goldman a blood-funneled and money-sniffing vampire squid wrapped around the face of humanity. "There are a lot of people who take issue with the whole approach, who feel like if you're going to present this factual case, that it shouldn't be so polemical and so opinionated and have that much narrative in it. I just don't think there are rules about these things."
The last time Mr. Taibbi agreed to be profiled, he met a Vanity Fair reporter up the street. Their coffee ended when he threw his cup at the interviewer, stalked out and then, when the interviewer caught up, told him, "Did you bring me here to insult me? Who are you? What have you ever written? Fuck you!"
READ AN EXCERPT OF MATT TAIBBI'S LATEST BOOK GRIFTOPIA HERE
But that was nearly a year ago. Mr. Taibbi, freshly married and now 40 years old, has a major book, Griftopia, an expansion of the squid profile and its main ideas, out Nov. 2 through Random House. It does not have a chapter on king-hell speed binges, like his first book, or, like his second, anecdotes about gobbling acid before interviewing the former White House Drug Policy head and Kerry aide, in a Viking outfit.
In fact, the book has no stunts or gags in it, and barely any mugging for the camera. "I'm worried about it, because it's not a particularly funny topic," he said. When he was writing, he caught himself trying hard to amuse. "Some of those things ended up being so unfunny that we had to actually remove them from the book."
Since at least 2008, when he won a National Magazine Award, then began shifting from politics to Wall Street, his name has been a byword for a certain kind of worldview and writing. It is infuriated; inquisitive; indecorous; agog. Except for its lack of psychotropics and costumes, the book is a summation of what his name means to the landscape of financial journalism.
But, especially recently, it's also become a schoolyard put-down. "How about that," a New York item on the analyst Meredith Whitney said this month. "Next they'll be finding holes in Matt Taibbi's reporting."
MR. TAIBBI GREW up on the south shore of Massachusetts, moved to England around age 7 and came back not very long after, which is when his parents broke up. "I was a bit of a troubled kid growing up, let's put it that way," he said. "I didn't take pleasure in hard work."
Still, he liked reading, and got The Collector, the John Fowles novel about a lonely young lepidopterist who kidnaps and tortures a beautiful girl, when he was young. "Eleven or something like that," he said. He also went to Concord Academy, a prep school, and loved it. "It's not a status place," he said, though on a list of notable alumni he is behind Caroline Kennedy and Queen Noor of Jordan (and ahead of Grizzly Bear's Ed Droste).
SLIDESHOW>>THE OBSERVER'S MATT TAIBBI PRIMER
He did not want to be a reporter. "Everybody I knew, practically, was a journalist when I was a kid–my father, all of his friends. I never wanted to be like those people." For about the last five years, he hasn't talked to his dad, the NBC reporter Mike Taibbi, who did not comment. "The only reason I ended up doing it is by the time I got to be in my early 20s, I wanted to be a novelist," he said.
"My idol was Gogol: I went over to Russia, I lived in the neighborhood where he lived and everything." In one of Griftopia's brightest spots, where he calls Alan Greenspan a gnomish party crasher and a gaggle-eyed clarinetist, he drops Nikolai Gogol's name to describe the intensity of Mr. Greenspan's own name-dropping.
He returned to America, briefly. "I had some credits to finish up at Bard," he said. He went back, then came home and worked in a private-detective agency called Dataquest International, run by a former Army man named Russ Bubas. "Once we had a job where we were trying to see if someone was stealing from the Stride Rite shoe company," Mr. Taibbi said. "I parked outside their factory, waiting to tail him, and I didn't realize I'd parked next to the company day-care center, where little kids were playing. They thought I was a pedophile. I was sitting in this old Oldsmobile. They alerted the whole company."
"Matt has got," said Mr. Bubas, reached through the agency, "a really terrific mind."
At Exile, the adored but gaga newspaper he co-edited for years in Moscow, there was a lot of speed. "You get together; everybody gets shit-faced; and everyone assumes nobody has anything going on because who does? Nobody," he told The Observer's George Gurley 10 years ago.
By 1998, Mr. Taibbi had a problem with heroin. "I came back to the States and I didn't have a connection," he said last week, "is how I kicked."
That was not the end of his drug use. In 2005, well after he'd left Moscow, he wrote a New York Press column called "The 52 Funniest Things about the Upcoming Death of the Pope," which, a week later, he said had been written in a Vicodin haze. "I'm too old for that shit now," he said at the diner.
In late 2003, he wrote a Nation cover story on Wesley Clark, in which, as one letter to the editor complained afterward, he "infiltrated a volunteer meeting disguised as an injured adult-film director just to get a rise." In 2004, he began covering politics for Rolling Stone, Hunter S. Thompson and P.J. O'Rourke's old magazine. "People throw that term around, 'gonzo' journalism," he told a reporter who asked him about it in 2007. His book that came out that year used it, too, on its back cover. So does next month's, thanks to an inadvertently flattering line from Lloyd Blankfein, who by "gonzo" meant that Mr. Taibbi's reporting is goofy, not Thompson-tier. "Who the fuck is Matt Taibbi," a line on Wonkette said after a 2006 Rolling Stone cover story, "and what makes him think he is an expert on politics?"
"Who the fuck is Matt Taibbi," said a 2009 comment on the Web site of Men's Journal, another Jann Wenner property, where the reporter covers sports on the side, "and what does he know about baseball?"
"Who the fuck is Matt Taibbi?" a man wrote on an online gay forum, after somone asked if anyone else found him cute and funny.
"I wouldn't take anything I read out of Rolling Stone at face value unless they are talking about pot, cocaine, or music," someone else wrote two Saturdays ago. "Oh and who the fuck is Matt Taibbi?"
BY THE 2008 presidential election, Lehman and Bear had been killed off. "It just seemed pretty obvious to us when the crisis hit that he had to get into this," Will Dana, Rolling Stone's managing editor, said. It doesn't bother him that Mr. Taibbi didn't know anything about the American financial system. "He educated himself very quickly. Once he gets into something, he burrows in deep."
"It's dark, and grotesque, and funny, so it perfectly matches the writing style I have," Mr. Taibbi said about his beat. "The one thing that I do is take really complicated systems and subjects and make them accessible to regular people."