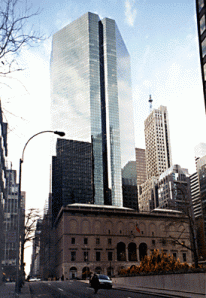 One of the few upsides to a down real estate economy is the plethora of deals to be had by the savvy investor with money on hand. That is certainly one way to describe the Fisher family, who began developing real estate in the outer-boroughs in 1915 and progressively worked their way in to some of the city's most prestigious properties in the heart of Midtown.
Fisher Brothers has just reached a deal to sell a minority stake in one such property, Park Avenue Plaza. The property at 229 Park Avenue famously took air rights from the adjacent Tennis & Racquet Club — an exclusive enclave designed by McKim, Mead & White — and built a 44-story SOM tower behind it. For many years it was one of Midtown's top towers, and it remains prominent to this day.
Rockpoint Group paid $330 million for its 49 percent stake in the building. "From the family's perspective we're in a great position to take advantage of some of the dislocation that may be coming," Winston Fisher, grandson of a founding Fisher, told The Journal.
And while there is no definitive proof, it would also make sense that the Fishers have finally struck a settlement with Sheldon Solow, the once mighty, now fallen developer king, as a means to drumming up further cash for their planned acquisitions. The families took a 50-50 stake in the former Con Edison site just south of the United Nations complex, paying $600 million to the utility a decade ago.
Since the partnership soured, the Fisher's have slowly been selling their stake to Solow, with just under seven percent left on the tab at a price of $111 million. When the recession hit and nearly wiped Solow out, he was unable to pay and a lawsuit ensued. The details of the latest deal remain undisclosed, but presumably they were satisfactory to all sides.
It's hard to be sure, as The Times spends part of its account of the deal delving into the troubled return of Solow, which The Observer chronicled earlier this year.