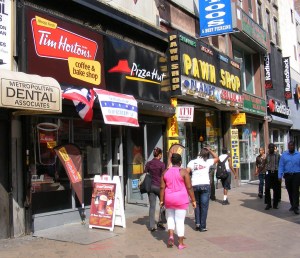 Can Fulton Mall become the next Madison Avenue? That seems to be the underlying question in a recent Journal article about the redevelopment of the eight-block shopping stretch in Downtown Brooklyn. Yet what the article fails to mention is that Fulton Mall already rivals many of the city's major retail thoroughfares. While it's true a new coat of paint would not hurt, pushing the strip upscale just might.
Merchants and developers are optimistic that this time will be different because housing and pedestrian traffic patterns are changing. Many of the new upscale apartment towers-such as the 650-unit Avalon Fort Greene rental building and Toren, a condo-are a few blocks to the north on Flatbush Avenue, a new area for this kind of residential development. While condo sales have been slow and developers have had to cut prices, there's been a healthy demand for rental units priced at about $2,000 a month for a one-bedroom.

There's also a greater circulation of affluent shoppers as residents of these buildings make their way over to the upscale restaurants and stores in Cobble Hill. New stores to show up in that area include a Barneys Co-Op, which just opened on Atlantic Avenue next to a popular Trader Joe's.
Yet Atlantic Avenue and neighboring Smith and Court streets have nothing on Fulton Street, where rents and profits are considerably higher. The article invokes the "halcyon days," when four separate department stores existed on the stretch. But the success of the strip never really ended when those closed, it is simply that tastes changed. As the borough's white, middle-class residents fled for the suburbs, they were replaced by the African-American and immigrant working classes who came to dominate Brooklyn for the last quarter-century.
"It's a Brooklyn-bred crowd and a Brooklyn-based customer," Faith Hope Consolo, the Elliman retail maven, told The Observer. She said the stretch has always been about how many shoppers are on the sidewalk, not how much money is in their wallets. She compared it to some of the city's other major high-traffic strips like 34th Street, Union Square and, most similarly, Fordham Road in the Bronx. "They make more than some of the trophy tenants," she said, referring to the flagships on Fifth and Madison avenues that have tight margins and are as much symbols than successful stores, in part because of skyhigh rents.
(Consolo said she tried to make the same points to The Journal, for whose article she was also consulted, but her counsel went unheeded.)
Look no further than the new stores the paper cites as signs of a new-and-improved Fulton Mall: H&M, Filenes Basement, SYMS, and Aeropostale. Not exactly Nordstrom's or Dean & Deluca, which is what many of the residents of those luxury condos might be hoping for. a While a Whole Foods might succeed on the stretch, at least a long time longer Jimmy Jazz will continue to outsell Gucci 10-to-1. The newcomers will have to stick with Smith and Court for their BroBo fix–where the rents and profits are about a third of what they are on the Fulton Mall according to Consolo.
"Places like those and Bedford Avenue in Williamsburg, that's really a targeted audience–its chi-chi chic," she said. "Fulton Street is fast fashion and cheap chic. It's what's wearable and practical, like denim, sportswear or an affordable suit."