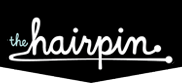 The Hairpin, the second spin-off site launched by The Awl in two months, went live last night.
Along with the other Awl sister site Splitsider and new sponsorship deals with companies such as Ann Taylor, The Hairpin is helping make The Awl a profitable enterprise for the first time since its April 2009 launch. In a piece in The New York Times today, publisher David Cho told David Carr that the site will bring in $200,000 this year and could "realistically expect to be in the low millions in terms of annual revenue in the next 18 months."
Carr also tweeted, but did not include in the piece, the news that The Awl would soon be paying its writers — something that a lack of funds had made impossible before.
The Hairpin will be run by Edith Zimmerman, late of New York magazine's Vulture blog, with help from Liz Colville, a writer for Pitchfork and former editor of Spinner, an AOL music site.
The Awl may be finally breaking even, but the Times piece — entitled "Against Odds, Web Site Finds Niche" — detailed the struggles the site has faced in its march toward profitability. When an anonymous donor sent Awl co-founder Choire Sicha a few hundred dollars, for example, it went toward food.
"Sure, I went broke trying to start it, it trashed my life and I work all the time, but other than that, it wasn't that hard to figure out," Sicha said.