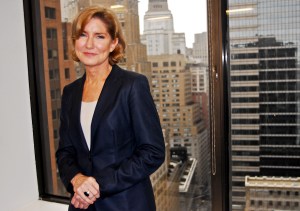 When it was announced in July that the Gay Men's Health Crisis had inked a sublease at 450 West 33rd Street, it was no surprise to anyone who knows her that Carri Lyon was behind the deal.
To be sure, if one were to take a glance at the Cushman & Wakefield broker's client list, a picture would very quickly emerge of a pro with a knack for generating word-of-mouth business.
It was thanks to numerous referrals from other like-minded gay and lesbian groups that led to Ms. Lyon's work this summer with the Gay Men's Health Crisis. But whether it's drug policy think tanks or children's groups, a similar chain of referrals can easily be linked across the senior director's entire portfolio of nonprofit clients.
To hear it from her, neither cold calls nor canvassing are what you would describe as Ms. Lyon's strong suits. Indeed, the power of referrals is what she attributes to her lasting success.
"I can't cold-call to save my life, and I have a Southern accent that I can't get rid of," said Ms. Lyon, whose accent, it must be said, is rather mild these days. "The way I get business has always been referrals. So almost any friend I have does some kind of volunteer work or [is] on some type of a board."
Since joining Cushman six years ago, Ms. Lyon has built upon her growing reputation as one of the city's most successful brokers for the nonprofit sector. This year alone, six of the nine deals Ms. Lyons has completed have been for nonprofit organizations, for a total of 227,657 square feet, she said. The deals have ranged from a mere 2,000 feet to a whopping 166,500 feet.
It was the Gay Men's Health Crisis deal in which Ms. Lyon completed a 166,500-square-foot sublease, at the Broadway Partners-owned building that houses the Daily News and the Associated Press. Inked in July, the deal will allow GMHC to operate on the sixth and seventh floors leased by public media outlet WNET.
The assignment fell to Ms. Lyon following a string of deals stretching as far back as 1998 with organizations like Gay Men of African Descent, the National Gay and Lesbian Task Force and the Anti-Violence Project, among others.
Elsewhere in the nonprofit sector, Ms. Lyon inked deals for Upwardly Global at 505 Eighth Avenue; Maria Droste Services at 171 Madison Avenue; the Spoken Hub at 20 West 22nd Street; the Drug Policy Alliance at 70 West 36th Street; the Beacon Mews at 34 West 139th Street; and, finally, Community Access at 2090 Seventh Avenue.
"These people are so selfless," said Ms. Lyon, 50, of those groups and other similar ones. "It's like a calling for some of these people. And it's not about the money, and how they hang in there year after year with the cutbacks–I don't know how they keep doing it."
MS. LYON WAS born in Durham, N.C., but, as the daughter of a traveling oncologist, her childhood was spent in campus towns along the East Coast, Cambridge included. But by the age of 10, she and her family had planted roots in West Virginia.
"I grew up at Duke, and Cambridge and Washington, D.C., during the Lady Bird Johnson era, and then North Carolina," said Ms. Lyon, condensing her state-trotting adolescent years into one breath. "As you can see, there was a lot of moving around early on."
Despite having a number of real estate professionals in her family, Ms. Lyon's earliest passion was for architecture, which she studied as a student at Yale. Her art history degree aside, however, she chose instead to study law at New York University, and, soon after that, accepted a position at Mudge Rose, the prominent 126-year-old law firm where Richard Nixon once practiced. It was as an associate that Ms. Lyon received her earliest introduction into the world of not-for-profit financing.
"One of the many things we worked on were trusts for cultural resources that did bond issues to help nonprofits like Channel 13, the Jewish Museum and the Modern," recalled Ms. Lyon. "I helped out [on those assignments] as much as a first- and second-year associate can. But, yes, I'd like to think I helped. I did some good Xeroxing."
After the firm imploded in 1995, following what The Times described as a fatal cocktail of "titanic egos, a splintering of stubborn partners [and] a skittish flight of lawyers," Ms. Lyon accepted a job at Stroock & Stroock & Lavan.
As a result of what seemed at the time like a never-ending string of 80-hour workweeks, Ms. Lyon, who was then focusing on conduit lending at the firm, sought out help for exhaustion.
"They're hard workers over there, and, especially in those days, conduit lending was seven days a week," said Ms. Lyon, whose clients at Stroock included Lehman Brothers and Bear Stearns. "Eventually I ended up in the hospital. You just get worn down over time."
The setback convinced her to rethink her career path. And while it may have been architecture on her mind, real estate eventually won Ms. Lyon over.
After sending an unsolicited letter directly to Stephen Siegel in 1998, Ms. Lyon won an interview that led to a broker position at the old Insignia/ESG. The New York City Gay and Lesbian Anti-Violence Project was among her very first nonprofit clients as a broker. It was the group that she would not only still be working with a decade later, but one that would lead Ms. Lyon to the Gay Men's Health Crisis. "If you're in this long enough, people will call you," she said.
"It's like being a psychiatrist, working with these groups, because you really see how different organizations run," she added. "Their time is so taken up by the mission and the fund-raising, and it's seven days a week. Sometimes real estate comes last–and that's where we really try to advise them."
jsederstrom@observer.com