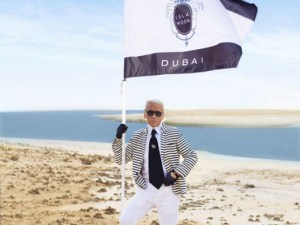 So much for Karl Lagerfeld's Dubai dream. Like many things in the Emirate, it has proven too good to be true, falling victim to the city's collapse. Like the hundreds if not thousands of projects that have been abandoned before it, all that remains of the Isla Moda is its otherworldly renderings.
As The Observer suspected, the project is nothing but a mirage.
Carolina (pronounced the Latin way, care-oh-LEE-nah) Botero, a representative for Miami-based architects Oppenheim, which was designing the project with Lagerfeld, said the images had leaked out onto the Internet without the firm's consent. (As a result, details on the project are sketchy. Really, it's just those renderings)
Yet Ms. Botero still holds out hope for the man-made island of couture. Maybe when oil hits $200 a barrell?
"The project is on hold, basically," she said. "It's kind of unfortunate. I don't know. There's not a lot going on." With the project or in Dubai? "There's not a lot going on anywhere."