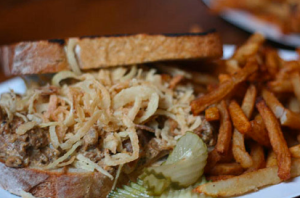 The dish: Turkey Leg Sandwich
Where to get it: Henry Public (Henry & Atlantic, Brooklyn)
Price: $12
Best enjoyed with: Sauvignon Blanc
When I asked Matt Dawson, co-owner of Henry Public, about his Turkey Leg Sandwich, he was silent for a moment and it occurred to me that perhaps I'd been pegged as a rival restaurateur, disguised as a blogger, gathering intel in a plot to reverse-engineer his recipe. I played down my eagerness and waited.
"Well…I don't want to give away all our secrets," he said finally. "What I will say is that the turkey is slow-braised in milk and herbs until it falls off the bone. Organic milk", he added, and I pretended to care.
The pedigree of the braising milk is an entirely irrelevant detail to anyone lucky enough to enjoy Brooklyn's Best Sandwich. Henry Public's masterpiece consists of rich, dark leg-meat, stewed in cooking liquids, piled between thick slices of grilled country bread, topped with crispy fried onions and served with pickles and excellent fresh-cut french fries. On my first visit, I asked the waitress to include some of the sharp cheddar I had noticed among the exceptional burger options. After "checking with the kitchen," I am happy to report she was agreeable and today the wait staff doesn't blink when they receive this highly recommended special request.
"I would never think to order it that way," Dawson told me.
"It's excellent cheddar. Is it Grafton or Shelburne Farms or…?" I asked, showing off some names I remembered from my internship at Murray's Cheese.
He paused. "Again, I can't really get into it but let's say its a mixture of two sharp cheddars."
I can't blame Dawson for being squirrely. When he and his partners began crafting Henry Public's "old fashioned tavern food" menu, a consulting chef suggested the braised turkey leg and it has remained much-celebrated since doors opened in 2009.
Be warned: the restaurant is cash-only and serves "hand-crafted" hipster-retro cocktails (special ice cubes, not-enough-booze, pulverized ginger, etc.) that can take forever to "craft." The scene is, at times, precious and noisy, but none of this matters once you get a table and start eating.
"One more thing," Dawson said when he called me back a few minutes after we first spoke. "The turkey is free-range and all-natural but not technically organic, just so there's no confusion."
"Ok…great. Thanks. I'm writing that down now." I lied.
More from The Latest Graze: Bean Curd Bingo!