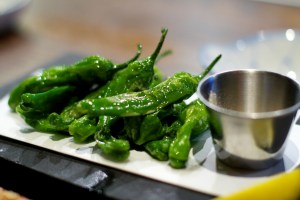 Dish: Deep Fried Shishito Peppers with Yuzu Salt
Where to get it: Ippudo (65 4th Avenue)
Cost: $5
Best enjoyed with: Kirin Draft or shochu with fresh grapefruit
Ippudo is today's ramen "it-girl," and trying to get a date with her anytime after noon for lunch or 6pm for dinner requires more patience than I am comfortable with. But at 11:00 am, the doors open and one can be seated promptly, met by the loud traditional greetings from the restaurant's feisty staff. Though Ippudo is a chain in Japan, the ramen soups served at this first U.S. franchise are carefully prepared in a rich, complex, pork-centric broth and might be the best New York City has to offer. The "tonkatsu" modern ramen and the hirata pork buns rival Momofuku's formerly glorious counterparts in freshness, flavor and, most important, unpretentious and speedy service.
The deep-fried shishito pepper appetizer compliments Ippudo's celebrated ramen soups without upstaging them. The shishito is a small thin-skinned green pepper flash-fried and served over paper on a wooden board with a lemon wedge and a small bowl of yuzu salt. Yuzu, a grapefruit-like citrus, is dried, powdered and blended with salt into an addictive powder not unlike the magestic and misunderstood M.S.G. The peppers are eaten by hand with a squeeze of lemon and a liberal salt-dunk, then best washed down with cold draft beer and the promise of Ippudo's exceptional ramen entrees.
To save a little time on a recent visit, I decided against the shishitos and as I was enjoying my ramen (with extra chashu pork loin) a beautiful Japanese waitress appeared.
"My manager saw you without your favorite appetizer and thought you looked very sad."
"No, I'm not sad", I said. "I was just in a hurry, you know, gotta get out of here pretty soon."
"Well, my manager wants you to eat these," she said presenting me with a small pile of the delicate bright-green peppers.
"Oh, thank you. Yes. Yes, I will."
And I did.