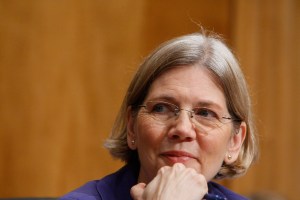 Looks like someone might have to dismount her high horse, because The New York Times is reporting that a senior advisor to Consumer Financial Protection Bureau brainparent Elizabeth Warren — brace yourselves — used to work for a company that lent to consumers with bad credit.
The guy in question, Rajeev V. Date, "was an active participant in the debate" over this year's Dodd-Frank financial reform bill, The Times says. But also, at the same time, Date was a director of Prosper Marketplace, "a so-called peer-to-peer lender" that experienced a default rate of "more than 25 percent." Yikes!
But then again:
There is no evidence that Mr. Date has violated any ethics or disclosure rules; a Treasury Department official said Mr. Date resigned from the Prosper Marketplace board before joining the bureau and, because he is still a shareholder of Prosper Marketplace, he will recuse himself from working on any issues related to peer-to-peer lending.
Here's a screengrab of Prosper's website.
Dirty, dirty Elizabeth Warren: Last month, Bloomberg revealed that — shockingly — she had made $90,000 providing expert testimony in lawsuits against big financial firms. Who would've imagined conflicts of interest would emerge during the establishment of a $500 million agency to regulate the banking industry? Unthinkable.
mtaylor [at] observer.com | @mbrookstaylor