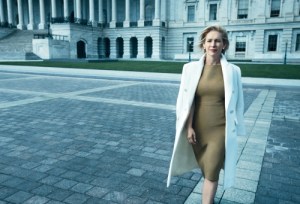 Speaking at a New York fundraiser last month, Senate Majority Leader Harry Reid turned to Sen. Kirsten Gillibrand and said that, "We in the Senate refer to Sen. Gillibrand as the hottest member."
Vogue seems to agree. The magazine is out with a profile and a photo spread of New York's junior senator that describes her as "a petite woman with pale-blue eyes and perfectly coiffed blonde hair" and praises her ability to feel at ease among upstate Republican farmers.
The piece goes on to make a comparison to Gillibrand's predecessor.
Think back to when Hillary Clinton ran for this very same seat in the Senate ten years ago. The idea was originally met with suspicion, if not downright hostility—and Clinton disarmed a lot of folks with a "listening tour" of upstate New York, patiently visiting every county across the state. She won that election by a comfortable ten-point margin and then put her head down and got to work, charming many of her Senate colleagues on the other side of the aisle with her intelligence, her tirelessness, and her deft ability to work the center of American politics. Six years later, she was reelected in a landslide.
Author Jonathan Van Meter recalls Gillibrand's uneasy entry into New York politics, when she was met with suspicion by liberals for her positions on immigration and gun control, and quotes Anthony Weiner on her eventual turnaround in the public's perception: "She said, 'I'm going to try to wear people down by being a good senator and a good person.' She's basically outlasted her critics. She's very Hillaryesque in that regard, in that a lot of the criticism of her at the outset was not so much about her but about what she represented to people through different lenses."
A few other Vogue-ish tidbits:
Gillibrand's record on gay rights stems from her mother, who had a friend who died of AIDS.
She lost 40 lbs gearing up for this campaign season.
She can give a Bible-thumpin' speech in outer borough black churches.
She says politics is an "adversarial profession," which is why so few women enter into it.
The full story, plus a photo gallery, are
here
.
dfreedlander@observer.com
twitter.com/freedlander