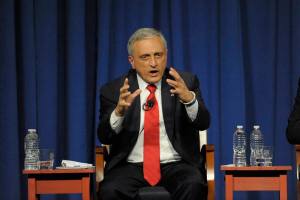 With less than one week until Election Day, Carl Paladino is finally beginning to resemble a conventional candidate.
He is reining in his rhetoric, limiting his media exposure, stumping in key constituencies and spending significant sums of money.
But it might not matter.
"There's reasons why voters vote the way they do," said Lee Miringoff, the Marist pollster whose most recent survey showed that 62 percent of likely voters view Mr. Paladino unfavorably–one of a slew of polls that put Andrew Cuomo's lead somewhere between 14 and 37 points.
"Upsets can occur, but the gap has to substantially narrow, and there's no indication of that occurring at this point," said Mr. Miringoff. "There would have to be a major game-changer of sorts–a dramatic revelation or an incredibly odd turnout pattern."
VIEW SIDEBAR > GREAT MOMENTS IN PALADINO
For all the talk about "paramours" and "prowess," the former seems unlikely.
"I don't think there's any October surprise," said a source with knowledge of the Paladino campaign. "He's just got to get back to acting and appearing gubernatorial. It's doable. But he sustained a lot of damage from a lot of missteps."
So, Mr. Paladino trudges on, trying to overcome the perception that he is a bully or worse, while doing his best to adopt the kind of responsible manner that has eluded him since his overwhelming primary win six weeks ago.
On Sunday, Mr. Paladino returned to Orthodox Williamsburg–where he made national news two weeks ago, when he read a speech that warned against children being "brainwashed into thinking that homosexuality is an equally valid and successful option."
This time, Mr. Paladino did not deliver anyone else's prepared remarks and, in a further show of caution, did not invite the press to attend. Reporters who inquired about the appearance were told by his campaign manager, Michael Caputo, that there would be no "media circus" that day.
Even before the debacle in Williamsburg, Mr. Paladino had begun to scale back what was previously an open invitation for reporters to tag along. In its place, Mr. Paladino has opted for the more structured format of following his events with a brief question-and-answer session.
"I think he's looked at the way Andrew Cuomo has limited exposure and tried to emulate that," said the source. "He's got to find a way to get off defense and really start playing offense."
The Paladino camp is hoping that the inspector general's recent Aqueduct report–and its charges that senior Senate Democrats were involved in peddling their influence to a casino bidder–could provide a late pivot.
"Aqueduct is a rather major development in the week before the campaign," said the source.
Even before the report, Mr. Paladino had begun to home in on the corruption angle, running a series of ads attacking Mr. Cuomo for his alleged ties to Democratic legislators like Pedro Espada Jr. and Vito Lopez.
And his best hope might be to flood the airwaves with even more ads designed to drag down Mr. Cuomo.
Mr. Paladino gave himself another $1.6 million on Monday, bringing his total self-funding to $7.3 million so far, and the source expected Mr. Paladino would, in fact, chip in the remaining $3 million of his $10 million campaign pledge–after lingering questions about whether the wealthy developer would be willing to throw good money into such a lopsided race. Mr. Cuomo, after all, reported having nearly $12 million on hand last week, which he has been utilizing to steadily hammer Mr. Paladino for taking government tax breaks and, of late, the alleged misdeeds of his campaign team.
"I think the important thing for Carl Paladino is he's got to get up on TV around here," said John Jay LaValle, the Republican chairman in Suffolk County. "He's got to almost reintroduce himself to the electorate around here."
"I think he's very firmly situated upstate, and I think the battle is going to be won in the Hudson Valley and down to Long Island," said Mr. LaValle, who called the remaining week "an eternity." (Mr. Paladino announced two appearances on Tuesday; one in White Plains and another in Hicksville, on Long Island.)
Mr. LaValle said he hadn't seen Mr. Paladino in a couple of weeks–not a good sign for a candidate who desperately needs to win on Long Island, where a weekend Newsday poll showed Mr. Cuomo leading him 61 percent to 27 percent.
"That's not even close," said Mr. LaValle, touting the official Republican line that the polls fail to capture the enthusiasm of Mr. Paladino's voters, who defied the prognosticators in the primary. "That race on Long Island is probably more, right now, within the margin of error. Definitely less than a 10 point spread. … He could even be winning."
Mr. Paladino seems to think he's doing just fine.
On Monday morning, Mr. Paladino was on Good Day New York, where he told the hosts they were "looking at the kinder and gentler Carl right now." But the hosts seemed skeptical.
"These elections, I think, tend to be won before Election Day," said Greg Kelly, one of the hosts, "and then Election Day sort of validates what happened before. Is this race just about over for you?"
Mr. Paladino looked confused.
"Oh, we're going to Albany," he said softly. "The race is almost over. Another week. Then we're going to Albany. The people are going to send us to Albany. You're going to see people come out in droves to vote in this election."
rpillifant@observer.com
VIEW SIDEBAR > GREAT MOMENTS IN PALADINO