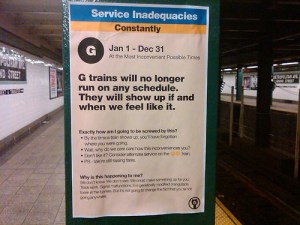 Well, not really. But they might as well.
All Things D blogger Peter Kafka turned up this funny faux subway warning on the Tumblrs, as well as another that pretty accurately encapsulates the most recent round of service cuts and fare hikes. Both declare what we New Yorkers have been thinking for too long.
Squinting so you don't have to, the fine print reads:
Exactly how am I going to be screwed by this?

By the time the train shows up, you'll have forgotten where you were going.
Wait, why do we care how this inconveniences you?
Don't like it? Consider alternate service on the "F" "U" Train.
PS — We're still raising fairs[sic].
Given that the Real Estate Desk had to ditch the F train after 30 minutes of waiting last night because it had been flooded, you might want to stay away from that one, too. May we suggest the only slightly less annoying alternative of biking in a hailstorm?
But the joke is actually on these pranksters, as the MTA updated its signs last month. Street artists, take note.