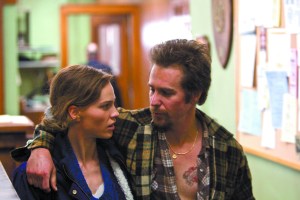 Conviction, directed by Tony Goldwyn, is the inspirational true-life story of a high-school dropout named Betty Anne Waters (Hilary Swank) who devoted 20 years of her life to becoming a lawyer in order to prove the innocence of her brother Kenny (Sam Rockwell), who was wrongfully accused and sentenced to life in prison for a murder he did not commit. Her unshakable belief in his innocence and her determination to expose and reverse a travesty of justice provides the raw material for an expertly detailed, soundly constructed film about family love that is undeniably powerful.
Betty Anne, a Massachusetts wife and mother of two from the wrong side of the tracks, and Kenny, who has neither an education nor a solid family background, were deserted by their father and raised by a trashy, self-absorbed mother who shipped them both off to a string of foster homes. Practically joined at the hip, they learn at an early age to depend solely on each other, but although they both eventually marry and start their own families, Kenny is always a rowdy prankster–violent, wild and impulsive–who spends most of his time on the wrong side of the law. So, in the rural hick town where they lived, when the body of a woman is found in a bloodstained trailer house in 1980, he is a natural suspect, but because of a lack of evidence, he is cleared and released. Two years later, two so-called "witnesses" come forward to testify they heard Kenny confess to the brutal slaying. With the relentless push of a crooked, man-hating cop (the excellent Melissa Leo), the case is reopened and Kenny is sentenced to life without parole. Betty Anne's world falls apart, but her faith in her sibling remains undiminished. While working as a waitress in a pub and trying to raise two sons, she gets her high-school diploma and earns a B.A. degree, neglecting her husband and wrecking her marriage in the process, but somehow manages to save enough money to enter law school and pass the bar exam. Fueled by unconditional love, she intends to overturn Kenny's conviction while acting as his lawyer.
With the aid of her best friend (Minnie Driver), she pulls every lever in the legal system, only to find the evidence in the case has disappeared. Appealing to famed lawyer Barry Scheck (Peter Gallagher) and his newfound knowledge of miraculous DNA testing to exonerate Kenny, Betty Anne pores over every shred of the investigation from start to finish, searching for blood work from the first trial to force an acquittal, bending a few laws herself to reach the truth. Meticulously examining every clue to piece together the missing elements of the puzzle, director Goldwyn and screenwriter Pamela Gray build a film of crime, suspense and adventure with breathless pacing and all the earmarks of a first-rate mystery story. Ms. Swank, who specializes in roles of bravery and true grit, and the always colorful and versatile Mr. Rockwell, one of the screen's youngest and most appealing character actors, exude amazing chemistry as the brother and sister living through two decades of hell. It's a thrill to watch his transformation from cocky young stud to hardened convict without hope, showing the cruelty and indifference of the American prison system at work. The flawless supporting cast includes a juicy performance by Juliette Lewis as a brainless witness whose lies under oath for personal reasons in order to ruin Kenny's life.
Filled with nuance, intricate emotion and a refreshing absence of melodramatics, Conviction is a moving exploration of light and love shining through the darkness of despair. Its impact cannot easily be shaken.
CONVICTION
Running time 106 minutes
Written by Pamela Gray
Directed by Tony Goldwyn
Starring Hilary Swank, Sam Rockwell, Melissa Leo, Minnie Driver, Peter Gallagher, Juliette Lewis

3/4