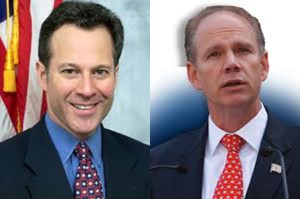 There are only seven days left until Election Day and Dan Donovan and Eric Schneiderman are touting new editorial board endorsements and using a familiar tool of the press corps–the FOIL request–to shame the other.
Yesterday the Donovan campaign grabbed onto the Inspector General's report about Senate wrongdoing with the negotiations over the AEG deal and FOILed all of Schneiderman's communications "which may indicate his involvement, collusion or participation in the process that awarded a $300 million state contract to an unqualified entity – AEG."
Only, as Casey Seiler over at Cap Con points out, legislators emails and phone calls aren't FOILable, so this request seems to be more about embarrasing Schneiderman by keeping the issue in the press than actually the prospect of any truth coming to the light.
Today, the Schneiderman campaign the state Democratic Party hit back, putting in a FOIL request for Donovan's phone logs and correspondance back when he was an aide in Staten Island borough president Jim Molinaro's office. Back then, now-imprisoned Bernie Kerik helped arrange a mob-controlled trash hauling outfit when a borough contract, and he told the company's leaders that Donovan has insured that their bid was a success.
Donovan has maintained that he does not know why Kerik mentioned him.
Both candidates are also out touting big newspaper endorsements today.
Donovan snagged Newsday, which praised Donovan's vow not to be the Sherrif of Wall Street, writing, "He must be a strong partner, with federal regulators, of the financial services industry that is the lifeblood of the region. That means policing it, but not impeding it."
And he grabbed The Buffalo News, which had kind words to say about Schneiderman but also said, "his ability to truly be an independent voice after having been so long a part of the system is at least questionable."
Schneiderman meanwhile grabbed the Albany Times-Union, which said, "What the next attorney general most represents is the people of New York's best shot at good government.
That means both a government that's as clean as we can hope, and one that serves citizens well. That takes more than legal expertise. It takes a mind-set that fully appreciates that the job is about far more than the state's penal law. Sen. Eric Schneiderman, a Democrat, understands that better than his Republican opponent, Staten Island District Attorney Dan Donovan."
dfreedlander@observer.com
twitter.com/freedlander