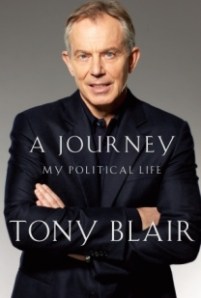 Literary Review, a British monthly publication, does its best to alleviate the pains caused by all the cringe-inducing, overwrought, or just plain gross sex scenes that appear in the pages of the world's most acclaimed novels. Each year it hands out a Bad Sex Award to a novelist who rendered that sacred sensual act laughably ridiculous. Past winners include writers such as Norman Mailer and Tom Wolfe.
And while the prize is usually reserved for works of fiction, one of this year's high-profile memoirs could not escape the attention of the judges: A Journey, former Prime Minister Tony Blair's account of his life and time in office. The Guardian reports that Blair joins other shortlisted writers such as Jonathan Franzen, Martin Amis, and Ian McEwen in the race for the unenviable prize, which will be announced on Nov. 29. The magazine's deputy editor Tom Fleming said the inclusion of a nonfiction work is "unprecedented" and "groundbreaking in every way."
Here's the offending instance of intimacy:
That night she cradled me in her arms and soothed me; told me what I needed to be told; strengthened me. On that night of 12 May 1994, I needed that love Cherie gave me, selfishly. I devoured it to give me strength. I was an animal following my instinct.
Even if there's nothing particularly scandalous here — Cherie was, after all, his wife — the idea of Tony Blair summoning any sort of "animal instinct" in bed is already way too dirty and wrong for our taste. We've learned our lesson about betting on book awards, but if we were to wager, we'd say A Journey is the favorite.