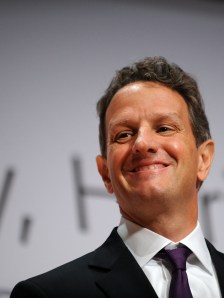 The U.S. Department of the Treasury, clearly not a long-term "buy and hold" investor of the Warren Buffett stripe, announced today that it plans to sell 1.5 billion shares of Citigroup, reducing what had at one point been a 7.7 billion-share, $45 billion stake in the company.
So far, taxpayers have gotten back $41.6 billion of the government investment, which Treasury undertook as part of the Troubled Asset Relief Program in 2008. After the sale, the government will own around seven percent of Citigroup, far lower than the high of 27 percent. Treasury said the sale will end by December 31, whether or not it is complete, so as not to violate the bank's blackout period in advance of its fourth-quarter earnings announcement.
Treasury's announcement follows Citigroup's Monday announcement of third-quarter earnings. The giant bank said it made $2.2 billion, up from $100 million in the third quarter of 2009 and better than Wall Street had expected. Citi shares closed 5.6 percent higher on Monday following the company's earnings announcement.
mtaylor [at] observer.com | @mbrookstaylor