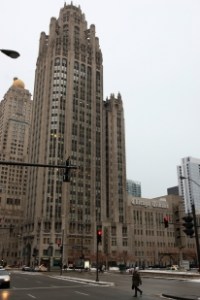 In the second high-level ousting of a Tribune Co. executive in a matter of days, CEO Randy Michaels will be advised by the board of directors of the company to issue his resignation, the New York Times reports.
The news comes soon after chief innovation officer Lee Abrams stepped down from his position amid uproar over a staff memo that contained, within a video on The Onion, supposedly racy content.
The departure marks a particularly turbulent two weeks in the span of time since real estate mogul Sam Zell purchased the company for $8.2 billion. On Oct. 5 the Times ran a ran a column by David Carr that depicted with vivid detail the frat house atmosphere at the Tribune. One salacious tidbit found Michaels offering a waitress at a hotel bar $100 to show himself and two young staffers her breasts — "watch this," he said. The article alleged that the company, once known for its restraint, was now defined by smoke-filled poker nights and "pervasive sex talk."
Michaels had spent time as a shock jock and executive at a series of radio conglomerates before Zell named him CEO upon acquiring Tribune in 2007. It can be said that since then, the economic woes have been on par with those poisoning the workplace environment. When the company declared bankruptcy in 2008, it listed $7.6 billion in assets and $13 billion in debt — the largest bankruptcy of an American media company in history. Since Zell seized the reins, over 4,000 employees have been laid off.
There has not yet been a statement from a Tribune spokesperson on the resignation.