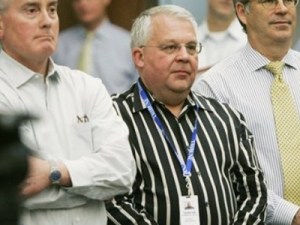 Amid revelations of unprofessional office practices and the shameful departure of his hand-picked chief innovation officer, Tribune Co. CEO Randy Michaels will resign from his post and will leave the offices by the end of the week, the Chicago Tribune reports.
The New York Times reported yesterday that the board of the company would be asking Michaels, a former shock jock chosen by Tribune owner Sam Zell to take the reins of the media conglomerate, to step down. Michaels told the Chicago Tribune — one of the publications under the Tribune Co. umbrella — yesterday that despite the supposed desire of the board he was, at that time, still holding his position at the company. "I work here today and I'm still working," he had said. Sources close to the situation revealed his resignation not a day later.
Michaels will be replaced by four Tribune Co. executives as the company seeks to revamp its sullied reputation and dire financial situation. The company is still trying to reach an agreement in U.S. Bankruptcy Court in Delaware.
The Tribune story said the ousting "may have been inevitable" after a column by David Carr in The New York Times detailed the fraternity-esque atmosphere, complete with "pervasive sex talk," that existed within the Tribune Co. offices.