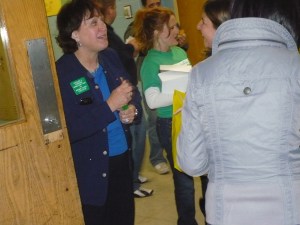 TENAFLY – Handing out pencils to a line of princesses, Storm Troopers, and wild animals, Bergen County Clerk Kathe Donovan seems right at home.
"I think the people are truly focusing on everything," she said today ay Tenafly Middle School.
Tenafly is a swing town, and could be one of the deciding lines on Election Day.
She'll lead her somewhat partitioned team of Republican freeholders and sheriff candidate Michael Saudino against the Democratic ticket headed by U.S. Rep. Steve Rothman (D-Fair Lawn), County Executive Dennis McNerney, and Sheriff Leo McGuire.
Facing off against Rothman is Michael Agosta, who told PolitickerNJ in Ridgefield Park today that he expects to win.
Agosta said he's up to 39,642 doors that he's knocked on, which he said has sparked a fire under Rothman to hit the streets this week.
His plan was to hit doors and stay under the radar, until popping out and surpirising Rothman after it was too late. And he thinks he's succeeded.
"Too little, too late," said Agosta, still considered a longshot to win against the seven-term congressman.
Rothman is expected to pull votes for the rest of his ticket, an advantage to the Democrats.
Will voters jump around the ballot and mix their tickets? Could Donovan, a moderate Republican – just the right kind for the county, they say – actually count voters who go with Rothman and other Dems?
"Bergen County voters are very sophisticated," Donovan said. For instance in 2008, she crashed an all-Democratic winner's circle as county clerk.
She's operating in a political climate with a stiff wind at her back, so if she can't win this year, sources said, then she may never be able to move up in Bergen.
She has been flying around the county and made it to the start of the Halloween parade in Tenafly just as Spiderman took the first step.
"I think we were in six places so far (today)," she said.
She's visited supermarkets and, hearing her reminder to vote on Tuesday, the people are realizing the big day is imminent. Their ears didn't perk up so much in July, she said.
Saudino, who met Donovan to see the young trick-or-treaters and hand out his "Saudino for Sheriff" Skittles packets, said he's ready to ride this out.
"I'm ready to leave it in the hands of the voters," he said. "It's been a real experience."
Today was hard – "I missed a few stops" – because he attended the funeral services of the Teaneck police officer who died in a car crash this week.
His opponent, McGuire, was also there, but left early, Saudino said.
He thinks of himself as a cop's cop, and hopes law enforcement insider endorsements will carry over to voter approval.
"It should send a clear and powerful message," he said.