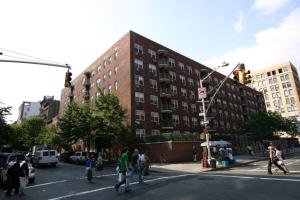 Following the unexpected bankruptcy of St. Vincent's Hospital earlier this year, the defunct doctors began selling off their assets to satisfy their creditors. The first property to go was 555 Avenue of the Americas, which The Real Estate Desk declared one of the ugliest buildings in the city. After 23 bids were entered for the building, which used to house hospital staff, it was sold to Stonehenge Partners for $67.34 million.
Stonehenge has decided it will turn the building into 200 rental apartments with ground-floor retail, according to The Real Deal, which also noted that New York-based firm Office for Design & Architecture will be responsible for the renovations. This is good news for such an unsightly building, as the firm has done a number of impressive projects in the city, including the dramatic James Hotel on Canal Street and 15 Union Square West, the radical transformation of the original Tiffany's Building. If anyone can save this red brick monstrosity, it is ODA.
Speaking of St. Vincent's, if you haven't already read New York magazine's cover story on the hospital, go do it now. The title, "Why St. Vincent's is the Lehman Brothers of Hospitals," pretty much says it all.