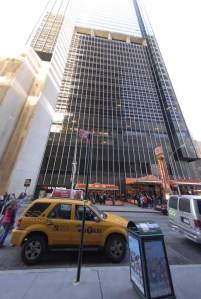 1515 Broadway
The shades will stay down at MTV's studios in 1515 Broadway.
Viacom has renewed its 7,619-square-foot TV studio space on the second floor, meaning the colorful windows that have become a fixture of Times Square should also remain.
This continues the sometimes-tumultuous love affair between the city's biggest landlord and one of its most important tenants. A couple of years ago, after some reported bickering over rent and renovations, Viacom renewed its 1.3 million-square-foot space in the SL Green building until 2015. This marked the third-largest lease ever signed in midtown, according to a press release.
"It's party time for Green and for Times Square," a source told the New York Post at the time. Indeed it has been, as Oakley also recently signed a record-setting retail lease, paying $1,400 a square foot annually to be in the building.
"We are excited that Viacom will retain its broadcast studio at 1515 Broadway," said Steven Durels, an executive vice president at SL Green. Viacom now plans to build a cutting-edge new studio, but Mr. Durels promised it will remain "one of the most visible and exciting elements of Times Square."
Michael Laginestra, Scott Gottlieb and Andrew Sussman of CB Richard Ellis represented the tenant.