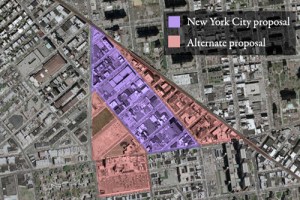 Vito Lopez' very bad month has ensnared yet another victim: the redevelopment of the Broadway Triangle on the southern edge of Williamsburg. Mr. Lopez, the local assemblyman and head of its housing committee, played a pivotal role in steering the divisive project through its inception and public review. He helped guide the Broadway Triangle not only during the past few years of planning but also for decades before, as the area has struggled to be remade from a largely vacant industrial area into something else.
Yet his role in helping select the United Jewish Organization of Williamsburg and the Ridgewood Bushwick Senior Council to develop affordable housing within the rezoning drew scrutiny throughout the process. More than 40 community groups rose up to oppose the project, arguing Lopez and the city's Department of Housing Preservation and Development had unfairly awarded the contracts to the Assemblyman's favored organizations, one of which–Ridgewood Bushwick–the assemblyman founded.
With that group now at the center of numerous investigations, and Lopez closer than ever to losing his iron grip on power because of it, the city has frozen all contracts with Ridgewood Bushwick. Unwittingly or not, that has also given a judge overseeing a lawsuit by the community groups cause to delay her decision on the case — something the city, already wary of the case, is fighting.
The Brooklyn Paper's Aaron Short has the story:
Attorneys for the city had asked the judge to lift her stay on development, despite the concurrent investigations into the site's nonprofit developer, the Ridgewood Buswhick Senior Citizens Council, and the state's decision to delay funding for housing contracts on two city-owned sites on Throop and Bartlett Streets within the triangle.

[…]

The suit also challenges the rezoning plan itself, which Needelman described as racially discriminatory toward blacks and Latinos because of its preponderance of multi-bedroom apartments and low density.
It seems unlikely the Lopez investigation will bring down the entire rezoning–it won the support of the local community board, which favored its mid-rise scale–but at the very least, it could open up the affordable housing component of the project to outside groups. Considering Lopez has lorded over those contracts for years, this could be the first chink in his armor.