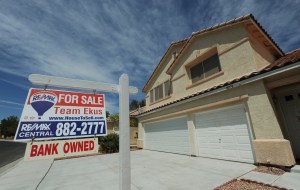 Giant bank Wells Fargo announced today that it's paying $24 million "to eight states to enlist help in customer outreach, and to prevent or mitigate the impacts of foreclosures in these communities." It's doing this because the states in question — Arizona, Colorado, Florida, Illinois, Nevada, New Jersey, Texas and Washington — are investigating Pick-a-Payment mortgages originated by Wachovia and Golden before their merger with Wells Fargo in 2008.
The mortgages, also known as payment-options adjustable rate mortgages, allowed borrowers to choose their monthly payments. Some borrowers would make payments that were insufficient to cover the interest on the mortgages, allowing the overall loan to increase over time. Nevada has charged that Wachovia and Golden West's marketing of these loans was a breach of its Deceptive Trade Practices Act, because the lenders didn't make it clear that the minimum payment would leave borrowers even deeper in debt.
Dow Jones Newswires reports that the company will offer to modify loans for 8,715 borrowers, for a total of $772 million in mortgage relief.
mtaylor@observer.com
Twitter: @mbrookstaylor