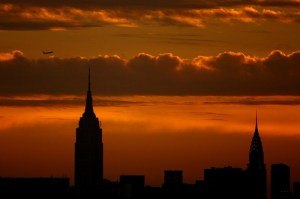 Maybe there was more than just the skyline when it came to Tony Malkin's fight with Vornado Realty Trust over its proposed 15 Penn Plaza, which will partially obscure views of Mr. Malkin's iconic Art Deco tower. It turns out that Malkin Hoildings made a pretty good return last year of $16 million on the building, doubling its 2008 numbers but still 54 percent off the record set the year before.
But Empire State Building Associates still "failed to accomplish its major financial goal of obtaining large loans to fund an anticipated 10-year, $626 million rehabilitation of the building," according to The Real Deal. That rehab, which includes a major "green" overhaul, is meant to bring the aging building into the 21st century, so it might compete with the likes of 15 Penn and One Bryant Park.
It will never achieve the same rents as those buildings, of course, but the goal is to at least stave off irrelevance and keep occupancies up. As the Deal's Adam Pincus notes, Malkin is holding on, at least for now:
The average annual rent tenants are paying was $29 per square foot in 2009, a decline of $1 per foot compared with 2008 when they were $30 per square foot. Asking rents fell further, to a range of $32 per foot to $52 per foot, as of the end of 2009 compared with $50 per foot to $60 per foot at the end of 2008, the company's SEC filings show.
Still, as yet another high-tech tower comes online, creating more commercial space and pushing buildings more recent than Malkin's out of their Class A position, it becomes all the harder to maintain supremacy — both on the skyline and at the bank.