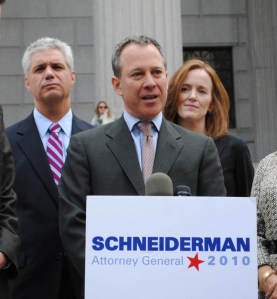 …Not in New York City, or at least not talking to the city's press corps much these days.
Indeed, it's been nearly three weeks since Schneiderman held a press conference in the five boroughs, save for a few questions he took from reporters after the WABC debate before the TV stations shuffled the candidate and the press corps away.
In that time, the Schneiderman campaign has kept busy, sending out a policy proposal each weekday and keeping up the heat on Schneiderman's G.O.P. opponent, Dan Donovan. Schneiderman has held a press conference in White Plains since his last Manhattan public appearance, but it was on Saturday and received scant press attention. He also did a roundtable on illegal guns with Long Island Congresswoman Carolyn McCarthy but that too was ignored by the daily papers and TV stations.
By comparison, the famously press-adverse Andrew Cuomo has done 11 public events in that time, although only two were in New York City and his fellow Democrat, comptroller Tom DiNapoli, has done seven, although only two of his were in New York City as well.
Donovan met the New York City press three times in that time period, meeting with community leaders (and the ethnic press) in Chinatown and with Hasidic leaders in Brooklyn, in addition to his weekly conference call with reporters around the state.
Of course, his meeting in Brooklyn didn't exactly go well, and Donovan's gaffe there could factor into some of Schneiderman's reluctance to go before the local media. At this point, facing a lead in the polls and a big fundraising advantage, Schneiderman may have more to lose than win by going in front of cameras.
Recent polls also suggest that Schneiderman has a comfortable lead in the city, but the race is much tighter in the suburbs and in upstate New York, and, according to the campaign, that is where he has been focusing his energy. And it is much harder to get media attention outside of the five boroughs, which could explain his absence from TV screens and newspaper pages.
Says campaign spokesman James Freedland:
"As Eric has said from the first day of this campaign, while living in NYC, he is conceding no part of this state and will travel to every region to communicate his positive message of reform to voters. His events in Rochester, Buffalo, Westchester, Long Island, Albany, and the Adirondacks in the last few weeks are testament to this commitment."