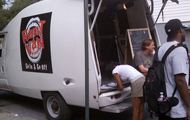 Brooklyn resident D.K. is tired of people telling him to shave his beard. "I don't want to curse or anything, but I feel like cursing that's how angry I am."
Luckily D.K. now has an outlet, Rant Van, a mobile video studio that records Brooklynites complaints for the whole web to hear.
According to the Brooklyn Paper the Rant Van was created by Christy and Johnny Sheehan, a Brooklyn couple with $3000 in savings and a penchant for public outcry.
So far the Van has captured vital, if not exactly novel, rants on topics like gentrification and the death of the telephone booth, all available for viewing at rantvan.com.
The Sheehans have a compelling concept, but it seems likely that the MTA has already won a patent on mobile technology that allows people to yell and scream at a big audience. It's called the Subway.
bpopper [at] observer.com