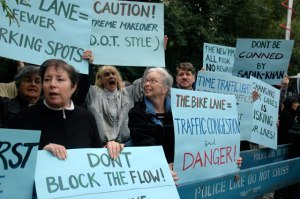 So it seems the city may not be headed toward bike-pocalypse after all, as expected. Last week's protest of the East Side bike lanes was a total dud, and while people turned up for today's Prospect Park West protest, it was mostly a bunch of Slope seniors, who were far, far outnumbered by upwards of 100 Brooklyn bikers.
Borough President Marty Markowitz sent his chief of staff to the event, who declared the new bike lanes the work of "one person," Transportation Commish Janette Sadik-Khan, a comment that drew boos from the mass of cyclists, according to Streetsblog. The BP sent out a release apologizing for his absence but reiterating the need for council oversight, though one imagines this is something Brad Lander and his predecessor Bill DeBlasio would have supported the lane, so what is Markowitz getting at?
He also decried the lane as a problem and an eyesore because "parked vehicles have been shifted to the center of the road, destroying the majesty and beauty of this magnificent thoroughfare and making it more difficult for visitors and residents to find parking, temporarily load and unload, and cross the street through bicycles coming at them from both directions-at the risk of those cyclists not yielding to pedestrians." As opposed to, you know, the cars that used to fly down the three-lane stretch before the bike lane materialized. Don't forget, folks, bikes do kill.
And yet the fight ain't over, as the Times unearthed a trove of police documents disclosing the extreme lengths the NYPD took to curtail Critical Mass, the monthly, sometimes combattive, bike rides through the city. The police force apparently went so far as to send helicopters and paid lots of overtime to lots of cops, both a huge expenditure of public money. (An actual amount was not disclosed.)