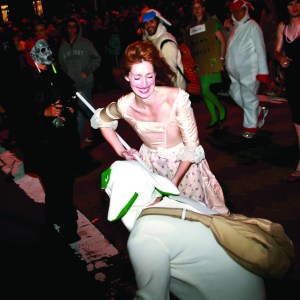 I don't want to dampen your spirit, but it looks like the weather's going to be fine on Sunday for Halloween. If you live in Greenwich Village, as I do, good weather for the parade is not good news. More than a few of us find the thing a nuisance.
A few years back, Community Board 2 held a hearing about moving it elsewhere. Councilman Thomas Duane called it a magnet for hooliganism and hate crimes. "The excesses of the parade have gone too far," he added.
Yet it goes on. We can't cross our streets or walk on our own sidewalks. And each year I get heckled by tourists as I head off in costume to parties. It makes me want to take a leaf blower and blow them all back to Jersey. I mean, in a city where dressing up and acting out is a way of life, do we really need a Halloween parade and its rowdy horde of two million?
At the risk of sounding generous, yes, we do. Every culture has its festival, whether it's Mardi Gras in New Orleans or Carnevale in Rio. In India, they have the Holi festival of colors, where people cover each other with powdered paint. In Africa, men dress up like birds or animals. "The wonderful thing about costumes is that they free you from your typical social and gender roles," says Nancy Sullivan, an anthropologist visiting from Papua New Guinea. "They allow you to disregard good taste and enjoy a form of release."
And along with griping and talking about real estate, release is something we value in this stressful city. According to last weekend's Wall Street Journal, the average New Yorker spends twice as much on Halloween costumes as other Americans. And many of us prefer to design our own costumes rather than buy them off the rack. A carnival like our Halloween isn't just about personal release; it's a way of getting together in public. When so much time is now spent inside on the Internet, that's a positive thing.
Besides, where would our city be without our drag flight attendants and nuns, our giant decks of shuffling cards, moving chess pieces and other group costumes so impossibly conceptual and elaborate that they make you proud to live here.
I still remember the parade of October 2001, when Mayor Giuliani insisted it take place because it would be a healing event for New York. With the entire world watching on the news, a giant Phoenix puppet rose out of ashes. It was perfect.
Whether in a small town or a big city, there's something elevating about the way people throw themselves into dressing up and stepping out in celebration. It's about the life force, really, the will to put some effort into doing something celebratory and silly.
I love the parade. At the same time, I look forward to Monday morning, when it's over.
editorial@observer.com