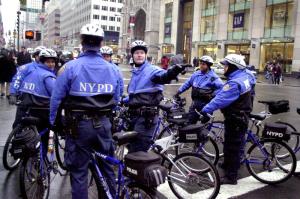 The Observer warned of a brewing bike backlash, but who knew it would turn violent so fast?
The Daily News is reporting that an off-duty police officer may have pulled his gun on a cyclist Saturday night as the two vied for space on Bleecker Street. The biker tried to confront the driver, knocking on the "heavily tinted" window of his black Volkswagen GTI, the off-duty officer brandished his pistol in reply. The cyclist called 9-1-1, and when he saw two cop cars near the Wagen, he told the officers about it, who quickly surrounded the car.
When the cop inside identified himself, the officers turned on the cyclist instead. "They started getting physical with him," the biker's attorney told the News. "He got upset, but he certainly didn't break any laws."
Granted cop-on-bike animosity is nothing new, having grown increasingly worse since the 2004 Republican Convention led to a swell of arrests for bicycle protesters. Most infamously, there was the case last year of Officer Patrick Pogan, who was caught on camera shoving a rider off his bike in Times Square. Pogan claimed he had been assaulted by the biker, and even threw him in jail for it, but a video later surfaced revealing the truth.
Perhaps there is some mysterious natural law at work here. Maybe the more mainstream cycling becomes, the more loathsome it gets, like Snuggies and beet salads. Maybe for every new bike lane that gets built, a cyclist must be accosted to pay for it.