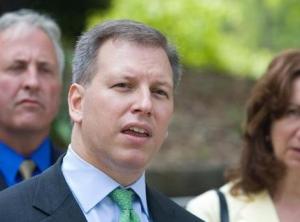 A spokesman for Harry Wilson, the Republican candidate for comptroller, just emailed the following comment on Carl Paladino's remarks in Brooklyn yesterday afternoon.
"I do not condone intolerance of any kind and categorically reject these hurtful statements," says the statement, attributed to Wilson. "Furthermore, I strongly urge every candidate for statewide office to focus solely, as I have, on the problems of our state, particularly our massive and growing fiscal crisis."
Wilson, like his running mate, Dan Donovan, has done his best to avoid talking about Paladino, saying he is focused solely on his own race.