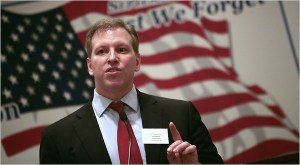 Alan Hevesi is in court as we speak, but Harry Wilson, the Republican candidate for comptroller is already out with a statement that seeks to link Hevesi to the man who replaced him, Tom DiNapoli.
Wilson's statement calls, once again, for DiNapoli to release his calendar so that voters can see if DiNapoli had any of the kind of meetings that Hevesi now admits he had.
"The State Comptroller's office was run as a criminal enterprise under Alan Hevesi, and the current unelected comptroller, Tom DiNapoli, is under investigation by Attorney General Cuomo, too," Wilson says in a statement. " This office, more than any other, must be viewed as transparent and trustworthy. A million current and future retirees depend on the office's financial integrity, and taxpayers must be able to trust their supposed 'fiscal watchdog.' That is why it is imperative that Mr. DiNapoli release his schedule of meetings as comptroller. His months of stonewalling on these meetings is deeply suspicious. He has an ethical obligation to New York State to make those meetings public."
In most years, an incumbent and a Democrat like DiNapoli would have a relatively easy re-election path in a down-ballot race for an office that few voters really understand. But Wilson will go in to the final month with a big cash advantage, a couple of likely newspaper endorsements in hand, and the news of Hevesi's guilty plea dominating the headlines. The most recent polls showed Wilson trailing by a lot. If he makes a move, it would need to happen now.