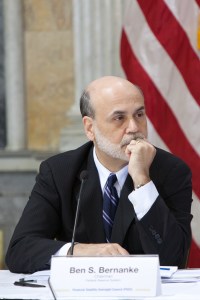 The Federal Reserve today swore in two new members of its board of governors — key slots in the central bank's monetary policy decision-making apparatus. Janet Yellen and Sarah Bloom Raskin join the board, upping the count of women on the Fed's board to three out of seven total seats. The last time three women served on the Federal Reserve board was in 1997.
Yellen, who also becomes vice chair of the board, replaces Mark W. Olsen, and Raskin takes the spot left open by Donald Kohn, who resigned on Sept. 1. Yellen used to be president of the San Francisco Fed, and Raskin was commissioner of financial regulation in Maryland.
According to the Associated Press, the pair is expected to support another round of Fed purchases of long-dated Treasury securities — a move that will theoretically lower interest rates and therefore encourage consumers to spend and businesses to invest. Fed Chairman Ben Bernanke has foreshadowed this move, and last week two high-level Fed officials came out in favor of additional stimulative measures. Not everyone is convinced that showering the debt market with additional money is such a great idea. Notably, Philadelphia Fed president Charles Plosser says that the Fed should be cautious about buying up additional Treasuries, or at least be able to clearly articulate its reason for doing so.
The Fed is still waiting to fill its seventh seat, which is currently empty. Nominee and former MIT professor Peter Diamond still awaits confirmation by the Senate.
mtaylor@observer.com
Twitter: @mbrookstaylor