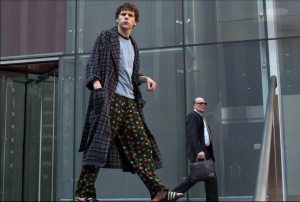 The Social Network has topped the box office and divided generations of Americans. "When you talk to people afterward, it was as if they were seeing two different films," said Scott Rudin, one of the producers, in the Times. "The older audiences see Zuckerberg as a tragic figure who comes out of the film with less of himself than when he went in, while young people see him as completely enhanced, a rock star, who did what he needed to do to protect the thing that he had created."
The NY Tech Meetup rented a theater on Friday to screen The Social Network for 330 developers, coders, designers and geeks on the New York scene. "It's the first real movie about this industry, or at least about our generation of this industry," says Adam Schwartz, an organizer of NY Tech Meetup and founder of the fashion site source4style.com. For young entrepreneurs, Mark Zuckerberg has become an ur-figure. "People have a lot of respect for what he's done. It's incredible. But is there just a smidgen of jealousy of Mark? Oh, absolutely," says Schwartz.
Love it or hate it, the film is at the center of the conversation in Silicon Alley this week. The Observer rounded up opinions from some of NYC's leading thinkers, founders and investors.
Check out their takes on The Social Network here >