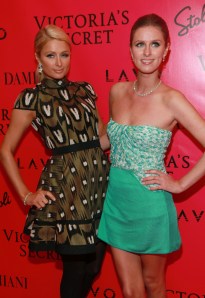 The Victoria's Secret Fashion Show — an enormous, loud and lavish no-holds-barred explosion of sex and skin, wholly and unapologetically resplendent, soaked in excess, overflowing with sequins, feathers, technicolor stripes and oceans of fuchsia-tangerine blast-lighting — took place last night at the 69th Regiment Armory last night.
"Welcome to Club Victoria," a voice echoed over the sound system. Then the voice said to turn off all mobile devices. "If you have to be on your phone during a show like this, you have other problems."
The highlights were extensive and hard to pick out, or even distinguish, from the entirety of the show. The Victoria's Secret models came out dressed like sailors, peacocks, cowgirls, Nascar pit crews, boxers, Amazon princesses and their natural angel garb — all while managing to wear basically nothing at all, of course. The country club scenery featured Aryan clones sculpted like Greek statues, while jungle scenery featured dark-skinned men with face paint dancing with arms akimbo. The closest the thing came to understatement was when the models just wore underwear.
Akon sang a song while endless pairs of endless legs walked up and down the runway next to him. Katy Perry belted "Firework" as sparkly purple mushroom clouds somehow clung to her as a dress. Vin Diesel fist-pumped in the front row the entire time.
When the spectacle ended, balloons fell from the rafters and lilted unnoticed onto the heads of the unsuspecting audience. No one knew the balloons were falling, because every set of eyes was locked on the line of models exiting the stage.
Outside, The Observer ran into Adrian Grenier. We asked if he knew any of the models in a personal way.
"No," he said. Then he paused. "Well, Alessandra was in "Entourage," but I don't really know her beyond that."
He didn't elaborate.
We told him we'd see him at the after party, at Lavo. An assistant whisked him into a car and we walked to the 6 train.
At 10:46 p.m. we got a text saying that Paris Hilton had arrived at Lavo. The subterranean rock-lined den beneath the restaurant of the same name was already air-tight, and the only breathing room was reserved for the row of bottle-service-clad tables. There were Victoria's Secret models tending bar, Victoria's Secret models walking around with strawberry and vanilla Stoli cocktails, Victoria's Secret models dancing with Russell Simmons, and Victoria's Secret models offering trays of tuna tartare. Also, the TVs played the tape of that night's Victoria's Secret Fashion Show. Michael Bay was there.
Then Paris Hilton arrived, and everything changed. Derek Blasberg, nominally an editor at Style.com but really just a runway and party attendee, escorted her to her table, where her sister Nicky and chilled bottles of Champagne awaited. As flash bulbs popped and smokers stealthily lit cigarettes, we greeted Paris Hilton.
"I thought it was fantastic as always," she told The Observer, of the show. "I love Katy Perry, she really rocked it tonight."
What about your budding music career, Paris?
"Well, I'm finishing my new album right now, so next year."
Any plans to play at, say, the Victoria's Secret Fashion Show?
"I think it would be an honor."
Katy Perry arrived shortly after and took over a nook beside Akon, Maroon 5, and their respective entourages. When the DJ started spinning "Sexy Bitch," on which Akon sings the hook, his crew and the people around him began shouting — "Yeah, 'Kon! Sing it, 'Kon!" — until he propped himself up on the seat and danced, pointing to the crowd. Later, when "California Gurls" came on, Katy Perry climbed on the ledge beside the table and let everyone marvel at her, hovering above them like a busty, elegant figurehead on an old ship.
The Observer spoke with Katy later in the night. Well — we asked about her performance but she smiled that big cartoon smile and said she wasn't doing interviews. We turned around to find that we were actually standing at Maroon 5's table, where perenially stubbled lead singer Adam Levine snuggled with girlfriend Anne Vyalitsyna. Anne Vyalitsyna is very much one of the Victoria's Secret angels, and very much stunning in person. She is both wonderful and amazing, Mr. Levine assured us.
Then, in that same scrum of female beauty and rock star excess, we found Twitter co-founder Evan Williams drifting in the middle. We had seen him before standing with partner Biz Stone — who appears in commercials for party-sponsor Stoli — talking to Adrian Grenier, who had twitpic'd himself grooving on the Lavo dancefloor earlier that night. We asked if there were any big names at the party who had yet to jump on the Twitter bandwagon. Paris? No, she has a Twitter, Evan told us.
"Wait, Paris Hilton is here?" he asked.
We nodded, pointed directly behind him, and then Twitter co-founder Evan Williams had a chat with Paris Hilton.