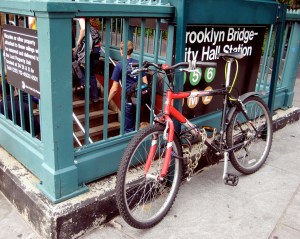 Bike sharing is coming to New York in some form, though The Observer worried about whether such a program would truly benefit locals, or simply be a means for tourists to get around (and get in the way). One issue is finding the proper layout for the system, though it looks like one of our astute readers has come up with a brilliant solution:
If there's a bike station upstairs from every subway station within the boundaries of the program (in addition to other bike stations spread out between and beyond those), you can rest assured New Yorkers will be using it.

It will be very convenient to know that instead of having to transfer to the train you just missed (which you were going to ride for two stops, and then walk some), there will be a bike upstairs for you to transfer to.
Not only would such an approach guarantee the proper density, as well as modal connectivity, but it would be easy for locals to use because they would know exactly where to take their bikes. We could even save on maps by just handing out the ones for the subway.
Now if only we could figure out how to solve the problem of people stealing the bikes. Hop to it, gang!