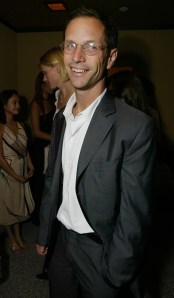 Hugo Lindgren was named editor of The New York Times Magazine in late September, a job that puts him in direct competition with his former boss, New York editor Adam Moss. WWD's John Koblin has written a lengthy history of their relationship that gives us a deep look inside a media bromance gone bad.
Lindgren has been instrumental in helping Moss build his reputation as a master magazine editor. The pair began working together in 1999 when Moss, who was editor of the Times Magazine, hired Lindgren to join his staff. When Bruce Wasserstein hired Moss to edit New York shortly after he purchased the weekly in December 2003, Moss brought Lindgren in to be his right-hand man/editorial director.
Eventually Moss and Lindgren began to have regular editorial disagreements, including one in February 2009 that, according to Koblin, culminated in a shouting match that was "the magazine equivalent of a domestic dispute."
Lindgren left New York for Bloomberg Businessweek in January.
Lindgren told Koblin that the tension between himself and Moss was a natural result of a long working relationship.
"I have no grudges. Our differences were the by-product of working together a lot … It's time for us to have different situations and it's worked out pretty well for both of us," Lindgren said.
"Hugo became unhappy in that job for whatever reasons … It became unpleasant for him and it became unpleasant for me. Hugo knew himself well enough to realize he should go and do something else," Moss told WWD.
Now, the two former colleagues are doing battle on magazine racks all over the city. Lindgren is planning significant changes at the Times Magazine.
So far, it seems like this will be a relatively good-natured media feud. Moss even told Koblin that he gave Lindgren "a glowing reference" when he was being considered for the Times job. But even if they do manage to keep things civil, the competition between Moss and Lindgren will be endlessly entertaining for media watchers next year. We'll hesitate to name a favorite just yet, but the New York media's version of the Subway Series is definitely heating up.