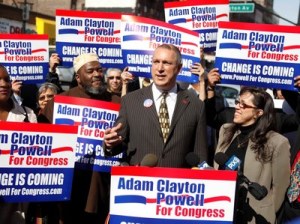 Assemblyman Adam Clayton Powell IV, who lost his re-match with Congressman Charlie Rangel in September by over 25 points, said that he thought censure was appropriate punishment for the longtime Harlem pol.
"In all fairness, that's the right punishment," he said. "This will probably color his legacy because it happened at the end of his career."
Powell said that he had not yet lined up a post-Assembly life for himself, but that he hoped to stay involved in East Harlem. He sounded disinclined to challenge Rangel again if the congressman decides to seek re-election in 2012.
"Whenever Congressman Rangel decides to quit I would be interested in running," he said, adding that right now Rangel is still "pretty tough to beat."
Powell challenged Rangel in 1994 and lost by 25 points. He said the congressman should not step down before the next election.
"His community re-elected him. He has every right to stay there as long as he wants," he said. "If he resigns it will look worse."
Of course, Powell has good reason for taking this line. If Rangel were to step down, a committee on vacancies would in essence pick a successor, and Powell has never been a Rangel favorite. During the campaign, the congressman said of his rival, "I think God has really blessed him with his dad's good's looks, his dad's name, and then God gave up on him."
Powell did however have harsh words for the Harlem politicos who rallied for Rangel on Sunday.
"They are looking like a bunch of fools to be honest with you," he said. "Congressman Rangel violated certain ethical rules. It's not a matter of opinion."