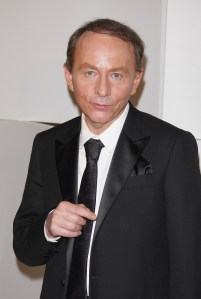 Yesterday, Michel Houellebecq won the ultra-prestigious Prix Goncourt — the highest honor bestowed upon a French writer — and in doing so silenced both his fervent detractors and obsessive fans who have clamored for years hoping he would win. So, being a Frenchman and a novelist, Michel Houellebecq had a party.
The event, as relayed to the uninvited masses on The Paris Review blog, was a strong cocktail of French high lit, French high fashion, and French high society. Or, as Houellebecq put it, "All my characters are here."
There's the ultra-chic Bernard-Henri Lévy (who collaborated with Houellebecq on the book Public Enemies); his wife, the actress Arielle Dombasle (who had the foresight to bring an e-cigarette); Yasmina Reza (in jeans and a little leopard-skin coat); the founder of Elle, longtime Vogue editor, and president of the Goncourt prize committee, Edmonde Charles-Roux (perfect in Chanel and Saint-Laurent); François Samuelson (the agent who represents all the prize winners nowadays); and the philosopher Alain Finkielkraut (who has found himself attacked by Bourmeau for his increasingly right-wing positions on Muslims in French society).
The sumptuous retelling of the night also mentions that Houellebecq exited with "a blonde angel of Russian origin." Naturally, she's the inspiration for a love interest in La Carte et Le Territoire, the novel for which he won the Goncourt. Tough life, Michel.