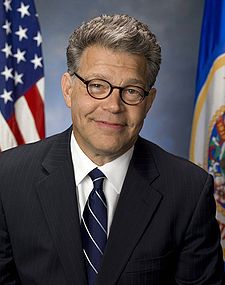 Sen. Al Franken announced yesterday that he would be fighting Comcast's right to retool NBC's executive structure prior to the merger's regulatory approval, writing a letter with complaints to the Justice Department that cried "gun-jumping" on the part of the imposing cable behemoth. If the department hears Franken's claim that the proposed executive structure constitutes "illegal collaboration," Comcast could be in danger of antitrust violation.
But could Franken really just be getting warm and fuzzy for NBC as it stands at the cusp of corporate takeover? The Senator was, after all, an NBC employee while he worked at Saturday Night Live. His tenure at the network began when he was brought on as a writer for the show's first season in 1975, left in 1980 and then returned in 1985. He stayed for a decade.
It remains to be seen whether Franken's lobbying will result in any antitrust violations against Comcast, or whether anyone will attack Franken for conflict of interest. But it's a solid bet that the writers for 30 Rock are scrambling to write a new character into the show: a former TGS cast member, now a senator, who's fighting the Kabletown takeover of NBC. That's how these things work, right?