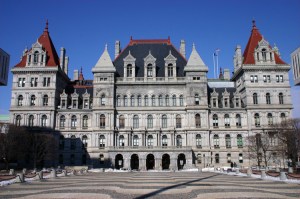 The state capital is empty of legislators now as the extraordinary session that Gov. David Paterson called to close a $315 million budget deficit ended without any movement to address the state's short-term budget forecasts.
Governor-elect Cuomo lashed out at the Democratically-controlled legislature, saying that "They failed the people of New York once again."
The state is expected to face a deficit of at least $9.2 billion for the 2011-12 fiscal year.
But Cuomo may not have that Democratic legislature to kick around much longer. Buffalo state Senator Antoine Thompson conceded this morning to Republican Mark Grisanti, in a race that was on virtually no political prognosticator's radar until election night. Republicans now control the chamber, two years after surrendering it to Democrats, after 40 years of Republican rule, by a 31-29 split. Two races remain undecided. Hudson Valley Democrat Suzi Oppenheimer holds a 325-vote edge over her opponent and is expected to retain her seat. But things look increasingly dim for Democratic incumbent Craig Johnson of Long Island, who now trails Republican Jack Martins by 431 votes.
If Johnson does manage to win, Lieutenant Governor Robert Duffy would represent the tie-breaking vote in the chamber.
And in bad news for the Democrats, the Senate Democratic Campaign Committee finished the cycle nearly $2.5 million in debt.
Meanwhile, Senator John Sampson was re-elected leader of the Democratic conference, but not, as Liz reported, without some serious scuttlebutt, as some Democratic Senators say that the vote was rigged by minority members of the caucus.