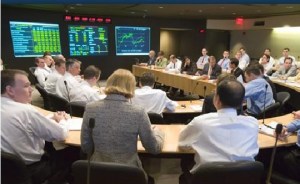 U.S. investigators now have some questions for enormous Boston-based money runners Wellington Management, part of a rapidly unfolding investigation into insider trading, Bloomberg reports.
More from Bloomberg:
Wellington said on an internal conference call yesterday that the firm is conducting a review of records, though it said it didn't engage in illegal trading, according to the person, who asked not to be named because the firm is private. In a call today, Wellington officials disclosed the document request, without specifying what kind of information investigators are seeking, the person said.
According to its website, Wellington is a monstrously huge firm, overseeing $598 billion (with a "B" — as in more than half a trillion dollars) in assets as of Sept. 30. It's named after Arthur Wellsley, the First Duke of Wellington, who vanquished Napoleon at Waterloo. We'll see how well the name holds up.
The firm joins an expanding list of big funds to have brushes with U.S. authorities so far this week. Others on the list include fellow Boston fund Loch Capital, Connecticut funds Diamondback Capital and Level Global. The feds are also said to be taking a gander at Chicago fund Balyasny.
mtaylor [at] observer.com | @mbrookstaylor