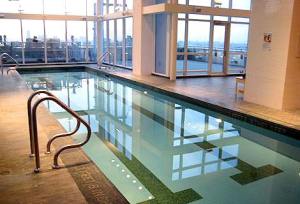 What can you buy on a teacher's salary these days? A $1 million spot on the 11th floor of the Orion, as it turns out.
Andrew Trees once had our sympathy after he was fired for poking fun at an unamused Horace Mann Academy in his thinly veiled roman à clef, Academy X. But now The Observer is mostly just jealous as he has sold his Hell's Kitchen home for $1.02 million. At least he did not make that much on the deal, having bought the place for $987,000 in 2006, just a couple of months after his book came out.
Given that his book had only come out a month prior, that seems like a rather ritzy apartment for Mr. Trees, who says his salary was roughly $75,000. Maybe he got a really big advance on his much-anticipiated first novel. Or maybe it just has to do with his swanky Deerfield Academy-educated upbringing and the parents behind it.
The two-bedroom place on the 11th floor of The Orion at 360 West 42nd Street in Hell's Kitchen has, according to the Prudential Douglas Elliman listing, western-facing floor-to-ceiling windows, deep soaking tubs and a mouth-watering beautiful kitchen. This is also, let's recall, the apartment building that thinks it's a five-star cruise, with a concierge, lap pool, hot tub and a massive gym with fitness classes.
But while Andrew Trees might be the poster boy for fun-employment, his octagenarian replacement is even cooler. David Kahn published the definitive history on cryptography, The Codebreakers: The Story of Secret Writing, in 1967–that's old-school cool. Mr. Kahn, who currently lives in Great Neck, could be among the growing number of seniors buying pieds-a-terre in the city.
And who wouldn't! Not only is there a plentiful selection of musicals and early bird specials, but how about the Orion's free breakfasts every morning.
lkusisto@observer.com