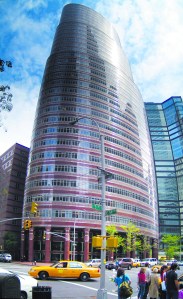 As hundreds of Bernie Madoff's personal belongings were auctioned off to bidders last week, the owners of the building that once housed the con artist's Potemkin trading floors, the so-called Lipstick Building, were preparing to declare bankruptcy.
In midtown, the Sheraton Hotel ballroom was transformed into a kind of government-run garage sale, part garish treasure trove (Ruth Madoff's 10.5-carat diamond engagement ring, a leather foot stool in the shape of a bull), part morbid extravaganza, full of sweaty bidders clamoring for bits of Ponzi-scheme memorabilia (cuticle scissors, Rod Stewart albums, the board game Sorry!).
Two days later, in a courtroom downtown, Madoff's former landlords were managing some artful financial alchemy of their own. Metropolitan Real Estate Investors, which bought the tower from Tishman Speyer for $648 million in 2007, defaulted on its mortgage in April. The Royal Bank of Canada, its primary lender, then sued to force a sale, and months of negotiations ensued.
Metropolitan's purchase of the landmark Lipstick Building–a complex configuration of equity and debt involving multiple parties, high-yield commercial mortgage-backed securities and faith in the ceaseless expansion of the financial universe–was a thing of its times, signed at the very precipice of the real estate bubble. Wachovia had originally agreed to finance 90 percent of the deal but rescinded its amply leveraged terms as the first tremors of real estate cataclysm crept across the system.
Metropolitan and its Israeli investors scrambled to find alternate funding to complete the transaction, taking a bridge loan from Goldman Sachs and selling a major portion of the land beneath the 34-story tower to SL Green, the city's biggest office landlord. (The land was then leased back to Metropolitan.) It was, in other words, a thing of staggering complexity and contingencies built upon contingencies. "There's assured rent growth," a Metropolitan vice president told The New York Times shortly after the deal. "It's not speculative."
The "Lipstick" moniker stuck almost immediately to Philip Johnson and John Burgee's round building, perhaps all the more so because it resonated with something quintessentially New York: gaudy and loudmouthed and occasionally smacking with a gloss of superficiality, a city once dismissed by Frank Lloyd Wright as "the biggest mouth in the world." The tower, glassy and rouge-tinted, tapers upward in three layers like a hulk-size retractable tube.
On an island brutally configured to transmute every gridded inch of property into profit, the elliptical building was, its architects claimed, the first of its kind. Johnson called it "an oval building in a square environment," though it was a distinction that didn't necessarily win fans–just a year after completion in 1986, the structure ranked fourth on New York magazine's list of top 10 "buildings New Yorkers love to hate."
Even so, the tower had no problem attracting tenants. Johnson himself installed his offices in the building, and Bernard L. Madoff Investment Securities was one of the earliest occupants, moving from Wall Street in the late 1980s.
Much like the building's architect, Madoff had a highly specific aesthetic vision, occasionally veering toward obsession. His headquarters on the 19th floor, like his matching London offices and private jet, were a sleek black and gray; alternate colors weren't allowed. He was fastidious when it came to desk surfaces, stipulating that employees remove all papers before leaving at night. In his famously ovoid tower, Madoff had an aversion to curves, using square pencil holders and trash cans, even drinking glasses, eventually going so far as to redo the entire office in the shape of a square. Finally, in such a glass-bedecked edifice, Madoff insisted on blinds, which tape measure-wielding underlings ensured fell in perfect alignment with the glass.
But it was the unassuming 17th floor where the biggest Ponzi scheme in history took place. To the upper floors' streamlined superego, the 17th floor was the messy subconscious where all evidence of wrongdoing was hastily stuffed. It was staffed mostly by young women with limited financial experience, and for years S.E.C. officials were unaware the floor and its fake investment advisory business even existed. It didn't need to conform to the upper floors' governing palette because it might as well have been invisible.
For more than a century now, architects have been conjuring up glass utopias. In 1914, a semi-anonymous group of German Expressionists exchanged fervent letters in which they envisioned glass as a revelatory medium, a crystalline antidote for the pretense of the 19th century's mock historical facades. Collectively known as the Glass Chain, the collaborative was spurred by the works of Paul Scheerbart, a kind of glass transcendentalist, who begot a poetics of transparency and light that was almost spiritual.
The glass pavilion built that year in Cologne by painter and architect Bruno Taut, a Glass Chain member, was an attempt to elucidate his belief that glass could break down the space between interior and exterior, and in so doing bring about political transparency. It sparked a conversation that didn't reach its pinnacle until 1949, when–who else but?–Philip Johnson built his seamless, all-glass abode in New Canaan, Conn.
Today Manhattan is a clenched vessel of glass. The substance shows up in our daily lives as routinely as words like "transparency," flung about by politicians, corporations and property developers alike. Like glass, we've learned it can obscure as much as it can reveal.
The Lipstick Building, for all its round-peg pretensions, was just another office building glossed over with postmodern sheen, subject to the same quicksand of real estate, the same capacity for devouring and being devoured as all the rest of New York's giant mouth. New York, Frank Lloyd Wright went on to say, "appears to be the prime example of the survival of the herd instinct, leading the universal urban conspiracy to deprive man of his birthright (the good ground), to hang him by his eyebrows from skyhooks above hard pavements, to crucify him, sell him, or be sold by him."
The Lipstick Building's owners are reorganizing under the name New Lipstick LLC. "Vacancy rates have increased, making it more challenging to service the debt on the property. Renewal lease rates have also been lower than anticipated," said Jacob Abikzer, Metropolitan Real Estate president, in court documents.
So much for assured rent growth. But the building is still one of its times, stuffed with the lingering spoils of the past several decades, its schemers and skyhooks and disappeared billions. Our buildings, like our politicians, have mastered the phrasing of transparency, rolled out its bizarre pageantries. Maybe in the century to come, we'll master some of its insights, too.
egeminder@observer.com