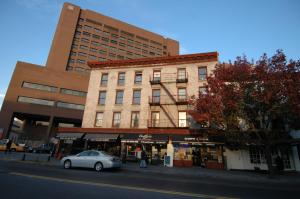 When St. Vincent's closed in the spring, it left a gaping wound in Greenwich Village. The first to feel the pain were the doctors and patients now out of a home, followed by the neighboring hospitals that were soon overwhelmed by demand.
But, according to The Daily News, the closing has had other unexpected impacts on one of the city's oldest neighborhoods, as local businesses that relied on the hospital struggle to make ends meet.
The Village has always been a hub of small, communal shops–this is the land of Jane Jacobs, after all–but the loss of a 3,500-person institution that cared for thousands more was bound to take a toll on local businesses. Those especially hurt are the ones that most directly served the hospital, such as florists and gift shops.
"Since we don't sell as much, we don't buy as much," said Lucy Herrera, an employee at West Village Florists. The store at 70 Greenwich Ave. has reduced its inventories and cut back its wholesale flower orders by a third. Staffers are working less and even the delivery man was put on "indefinite vacation," said Herrera.
Even the corner pizzeria is feeling a little under the weather.
"Hospital workers, visitors, doctors, they all came during the day," said Manuel Aquino, manager of Two Boots pizza on W. 11th St. "Now, we survive off the nighttime bar crowd."
Sure, this could diagnosed as part of the ongoing struggles of mom and pops in the city, but when you take such a community anchor out of the community, it makes survival all the more difficult.