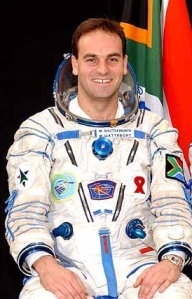 Stop us if you've heard this one: A rocket man and a Rockets man walk into a building and come out with the biggest deal ever recorded downtown.
On Friday came the news that former Jersey stock broker and Houston Rockets owner Leslie Alexander sold his penthouse at Superior Ink for $31.5 million, a record for downtown Manhattan. It was a huge win for him, and for architect Robert A.M. Stern, whose 15 Central Park West has also been breaking sales records for a while now. The only question was who the buyer, identified only as an unnamed foreigner, was.
Now, Page Six has the dirt. Mark Shuttleworth, a South African businessman, bought the unfinished apartment, according to the tab. He can easily afford it, it would seem, as he was the second person ever to become a "space tourist," dropping $20 million in 2002 to be rocketed into space. With a name like that, he seemed destined for the trip.
As for the apartment, The Observer hopes enough of Mr. Shuttleworth's reported $225 million fortune is left over to finish the penthouse. If there's not enough money to install a shuttleport on the roof, what's the point of buying this place? The 360 degree Hudson River views? The exquisite modern-meets-prewar finishes? The fantastic neighborhood? Hardly.
mchaban@observer.com