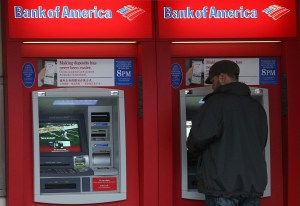 Foreclosure foibles and mortgage securities muggings aren't stopping two honchos at Bank of America from investing in their firm. According to documents filed with the Securities and Exchange Commission, two directors at BofA bought a total of 65,000 shares of the company yesterday. BofA chairman Charles Holliday bought 30,000 shares at the company for about $189,000 and director Robert Scully bought 39,500 for about $492,000.
Bank of America shares are down about 6.6 percent since Oct. 1, when the company announced it would stop foreclosures in 23 states on account of some apparent muck-ups and legal corner-cutting in its affidavits. Since then, the company has taken its moratorium nationwide, then said it was resuming foreclosures. It's also dealing with lawsuits from investors in potentially shoddily assembled mortgage securities.
Perhaps yesterday's news that the bank's trading operations had batted 1.000 in the third quarter had something to do with the directors' enthusiam.
mtaylor [at] observer.com | @mbrookstaylor