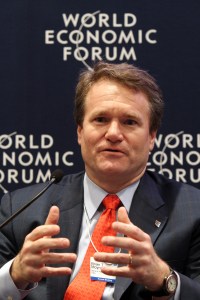 Addressing the risk of investor putbacks on mortgage securities his company had sold, Bank of America CEO Brian Moynihan told investors on a recent conference call, "When you get people saying, 'I bought a Chevy Vega, but I wanted to be in a Mercedes with a 12-cylinder' … we're not putting up with that."
True to Moynihan's word, the gloves are coming off. The New York Times reports that BofA believes that the threat of putbacks will speed up the bank's foreclosure process and ramp up evictions. Plus, the mortgage securities in question went bad because the economy tanked, and the soured investments aren't BofA's fault, the company said.
BofA's argument aims to invalidate claims by BlackRock, PIMCO and the New York Federal Reserve that BofA owes them for a portion of $47 billion in mortgage securities. You bought a Chevy Vega, you get a Chevy Vega, Bank of America appears to be saying. The Times reports:
At the same time, Bank of America faces pressure to slow the foreclosure process, even as large investors – including the government in the case of the Federal Reserve and Freddie Mac – push for the foreclosures to proceed.

In Thursday's letter, written by Wachtell, Lipton, Rosen & Katz, one of New York's top law firms, Bank of America's lawyers note that Freddie Mac has stated publicly that it is committed to help troubled mortgage holders keep their homes.

"Your demands to hasten foreclosures and to reduce loan modifications are patently inconsistent with that stated aim," [BofA's] letter said.
Perhaps this dual pressure goes some way toward explaining BofA's stop-and-go approach to foreclosure proceedings. Over the course of about five weeks BofA went from: announcing a 23-state foreclosure moratorium, taken the same moratorium nationwide, announced a plan to resume foreclosures and then suggested that the foreclosure process had resumed at a snail's pace. In the meantime, investors are still trying to hang a price tag on the cost of crappy mortgage and foreclosure documentation. A recent Standard & Poor's estimate puts the financial sector's potential losses at $31 billion, and Goldman Sachs has said the foreclosure foibles could prompt losses of $26 billion.
mtaylor [at] observer.com | @mbrookstaylor