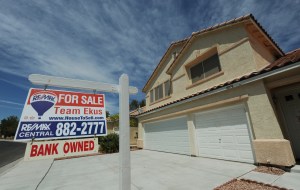 Ooh, another scary foreclosure-crisis story! Today's meltdown prediction comes from reliable market mover Barron's, which says the major banks could forfeit more than $100 billion on so-called "putbacks" of mortgage securities. If courts determine that banks fibbed about the quality of mortgages they packaged into the securities, the banks may be forced buy the deteriorated products at par value.
Citing research from Compass Point Research and Trading, Barron's estimates Bank of America's potential losses at $35.2 billion. JPMorgan faces a $23.9 billion price tag, Deutsche Bank could take a $14.1 billion blow and Goldman might hit an $11.2 billion pothole.
Of course, it's hard to quantify the eventual legal risk to the banks, but Barron's isn't overly optimistic:
How much of a loss the big banks will suffer as a result of investors' putbacks is anyone's guess. The law in this area is largely untested. The banks figure to put up an epic battle because the stakes are so large and no federal bailout of big banks seems likely in this political climate. They are on their own.
A gloomy picture indeed, unless of course that there is some kind of subtle, backdoor route for Congress to take in coming to the banks' aid. Not that we've seen anything like that before.
mtaylor [at] observer.com | @mbrookstaylor