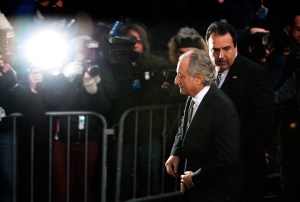 More than 1,000 lawsuits are coming soon that will target the victims of Bernard Madoff and ask them to give back money they thought was theirs. Those civil complaints will be filed by lawyers from Baker & Hostetler, the firm of Irving Picard, the bankruptcy trustee in the Bernard Madoff case.
Picard faces a hard deadline on filing suits before Dec. 11, two years after Madoff's fraud became public. As US Bankruptcy Judge Burton Lifland said from the bench Wednesday: "Clearly, we are getting close to a rock and a hard place."
Picard is supposed to be recovering money for victims, so why is he trying to extract money from them? His actions stem from the nastiest words in bankruptcy court: the clawback. His view is that if the investors took out more from their accounts over the years than they actually put in, then they need to give the money back because it could only have come from other victims of Madoff's scheme.So while an investor's statement may have showed capital gains and profits, it was meaningless Madoff fiction. The best estimates by investigators are that Madoff's victims actually gave him about $20 billion in cash and their statements showed alleged assets of more than $65 billion.
RELATED > Inside 5 of the Most Pervasive Ponzi Schemes
Sitting in the audience at Bankruptcy Court Wednesday in Manhattan while other lawyers handled arguments before Lifland, Picard told Minyanville: "We desire to get something done and encourage people to come in and talk to us, as many have."
Indeed, to date, many terrified Madoff victims have been afraid to talk to the bankruptcy trustee for fear that he will demand money back. Now they face The Big Squeeze that will prove that sometimes silence isn't golden.
Until a victim details his woes to the trustee, Picard's view is he can not use his discretion to make any adjustment for people who have gone broke, face huge medical bills, foreclosure, or countless other problems. In contrast, Picard says some people who have already talked to his team have been dropped from his target list because they clearly cannot pay the money back.
Marc Hirschfield of Baker & Hostetler told the judge investors must realize that the trustee may only know what has been found in the account records of Bernard L. Madoff Investment Securities. "The trustee understands there needs to be a balancing to what the trustee has done. He has invited people to come forward. There are literally hundreds of lawsuits that might have been commenced that have not been."
Warning about the hundreds of lawsuits that will be filed by Baker & Hostetler, Hirschfield said: "With a lack of information about hardships. We clearly have no choice but to go forth with these actions."
In 19 complaints already filed against hedge funds and large investors, Picard is seeking $15.5 billion. His firm has recovered $1.5 billion in settlements so far on behalf of SIPC, the Securities Investors Protection Corporation. Investors have $5.7 billion in claims outstanding that have been ruled valid by Picard.
RELATED > Madoff Gear for Sale!
Meanwhile, those numbers may soon change dramatically. Sources tell Minyanville that Picard may soon receive a settlement of more than $7 billion from the estate of Jeffry Picower, the investor who got at least $5 billion more from Madoff than he gave him.
Other possible sources of revenue from litigation could include suits here and abroad that Picard has not yet filed, including against large institutions such as JPMorgan Chase (JPM), the bank that handled much of Madoff's money. The trustee has told the court that nearly 90 cases against financial institutions and funds are being contemplated abroad.
With Picard's huge team of several hundred lawyers poised to race to the courthouse with more lawsuits, speculators who buy investors' bankruptcy claims for pennies on the dollar are watching this case closely. One source says Madoff claims are trading at somewhere between $0.28 to $0.31 on the dollar now. The trading is so brisk apparently that it prompted Judge Lifland to remark: "I don't want to see anybody victimized twice."
While Picard's team was busy in bankruptcy court, the US Marshals Service and auctioneers Gaston & Sheehan were previewing the last sale of Bernie and Ruth Madoff's possessions for the press.
When the final hammer comes down on Saturday, Bernie's custom-tailored suits, shirts, and shoes, Ruth's 10.5-carat diamond engagement ring, their grand piano, a half dozen watches worth at least $500,000, as well as used lawn furniture and other junk may bring in another $1.5 million.
At the last auction, the customized New York Mets jacket that Bernie owned and was given to him by the Wilpons, his friends/victims/partners who own the Mets — brought in $14,500 — 10 times more than expected. This time, the hot keepsake, predicts Roland Ubaldo of the US Marshals Service, will be Bernie's black velveteen monogrammed slippers.
RELATED > Inside 5 of the Most Pervasive Ponzi Schemes

This article was originally published on Minyanville.com and is reproduced here with permission.