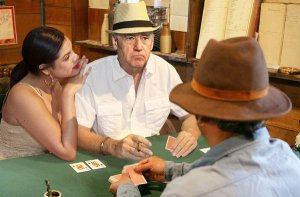 Vice President Biden is frequently portrayed as some kind of louche troublemaker in The Onion, and today The Times breaks down the joke as enjoyably as these kinds of articles can.
One of the first pieces to establish this persona for the vice president, "Shirtless Biden Washes Trans Am in White House Driveway," generated half a million page views, so it would seem that mocking him is profitable. The article touches on a few of the paper's other presidential parodies, but fails to mention their deadpan torture of President Bush in his last months in office, or the fact that they haven't really found a character for President Obama yet. Nor do they touch on another cabinet member who developed as a fertile subject for jokes: John Ashcroft.
The Onion has said that the vice president is a fan of the parodies, but The Times hit a wall when it tried to find out itself.
"Let me get this straight: You want to interview the vice president about stories about him in The Onion?" Mr. Carney asked, sounding at once amused and dumbfounded by the request. "Well, I'll give you credit for trying."
The Times says the jokes are full of "randomness," but The Onion has been pretty consistent in showing Vice President Biden as some kind of aging swinger. Next up, apparently: he'll be living on a houseboat.